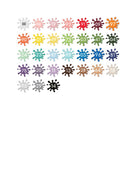 Description
This kit includes:
-1 biggie bank
-4 Paint Colors (Add #'s to the comment section at checkout)
-Paint Brushes
-Glaze and Fire
Paint at home and bring back for us to glaze and fire!
This guy is HUGE! He is a great statement piece and can easily be painted by more than one person! Fun for room decor or to save money for a special event. Bring him back to be fired when finished!